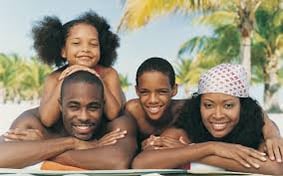 Nothing says summer like great family trips to the lake, the pool and the beach! These summer trips make us recall fun, laughter, the smell of the beach, laying back with a great book, and just feeling the warm sun caress your face. They are about building sand castles on the beach, fishing, and other great family activities.
And while these trips are what family memories are made of, US Family Health Plan wants to help you stay focused on safety and health to make sure that your memories are all good ones. To help you ensure your lifelong memory doesn't morph into an unforgettable nightmare, here are the top 6 thing you need to know to keep your family healthy and happy by the sea (or pool).
1. Pack a smart beach bag. Who goes to the beach without a bag? But to stay safe and healthy, it's important to know what to put into the bag. Must-includes are sun protection, sun glasses, a first aid kit, water, flip flops, towels, sun-hats, water, and food that won't perish in the heat. The rest of the stuff you pack in there is totally up to you!
2. Avoid massive sunburns. Make sure to bring along a broad-spectrum sunscreen of SPF 15 or higher and use it frequently on every member of the family. Keeping everyone's skin well-protected can help lower those chances of developing painful skin burn, or worse yet skin cancer. Big umbrellas, hats (and shades) and beach tents also help to ward off the burn of the sun especially during the sun's peak hours of 10 am to 4 pm.
3. Avoid excessive sun and heat exposure. If you or anyone else becomes confused and dizzy, fatigued, complain of headaches, have muscle cramps or weakness, gets nauseated, excessively sweats or doesn't sweat, it could be due to over-exposure to the sun. The signs of sun stroke include pale skin, swelling (particularly of the hands or face) or a rapid heartbeat. If you notice any of these symptoms, get out of the sun and heat quickly! Remove any unnecessary clothing, drink plenty of water, and take a cool shower. If symptoms are severe (swelling, confusion, painful and blistering sunburns) seek medical attention immediately. Also, bring a pair of shoes as they will keep your feet from 100-degree sand. Remember to hydrate if you plan on staying out for a long while. Pack plenty of water to refuel.
4. Make sure the whole family knows swimming fundamental. Do you know how to swim? You don't have to be an Olympic medalist, but knowing the basics of swimming can save your life. Ocean swimming is very different from a pool or even a lake. Strong currents and rip tides can be deadly if you don't know how to maneuver. The ocean floor is not flat. It can drop off unexpectedly, so be aware that you can find yourself in deeper water unprepared to swim in water over your head. Be aware of your surroundings and note where the life guards are at all times. Make sure young children are wearing a life vest at all times.
5. Keep an eye out for ocean life. You might like ocean life – fish, starfish, or clams, but ocean life may not like you. Venomous jelly fish, crabs, lobsters and the shells of mussels and clams that can be very sharp can pose a threat. It's their world too, and some may not be happy to share. Educate your children about what to watch out for. Check the local news for signs of any recent reports of sharks or alligators. And most importantly, keep one eye peeled on younger children as they wander around the beach. They should be supervised at all times.
6. Check for beaches and pools that have high safety standards. Avoid bodies of water that may be highly polluted or contaminated. Make sure there are bathrooms, water fountains, and showers nearby as well as a good staff of beach safety personnel, especially lifeguards. Look for beaches and pools that are clean, safe, and well equipped. And make sure you and your children read and adhere to all the safety rules for the beach. It makes a difference.
With these tips, including paying attention to the rules of the beach, adhering to beach signs and following the direction of the lifeguards, your summer trips to the pool or beach can be pleasant memories for a lifetime. And US Family Health Plan is all about happy families with happy beach memories. Our greatest wish is for you and your family to remember to stay healthy and happy!