Fall is one of the best times of the year to enjoy quality time with your family and friends. From apple picking, to Halloween thrills & chills, to hiking through the fall foliage or even football, there is no shortage of fun things to do.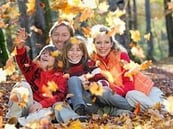 Even with a slight chill in the air, it can be invigorating to get outdoors and partake in the many autumn activities throughout the greater NY/NJ/CT metropolitan area. Our region enjoys some of the most beautiful fall outdoor scenery in the country, so get out there and make the most of it!
To help get you started, US Family Health Plan – a TRICARE Prime option – has a list of our favorite fall outings that you and your family can enjoy together throughout this season.
FiDi Families at the Seaport – October 31st 10am. This fall event will host storytellers, music, arts and crafts for kids aged 4 – 8. Taking place in lower Manhattan's Financial District, this will be a fun-filled day for kids and parents alike. Registration is recommended as this tends to fill up quickly.
Puppetworks in Park Slope presents Beauty & the Beast – Saturday, October 3, 2015 through Sunday, December 20, 2015. Gabrielle de Villeneuve's classic French tale about a frightening beast and the girl who sees him for who he really is. Suggested for ages 4 and up.
Children's Museum of Manhattan presents NYC and Me: A Little Bite of the Big Apple – October 1 through December, 31st, 2015. A new activity for kids that captures the sights, sounds, flavors and essence of New York City. The exhibit is a 3,000 ft. interactive gallery that lets you take over a Big Apple street, a park, public transportation or even become Mayor. For kids of all ages.
The Great Pumpkin Carve-Out at Stoney Brook Millstone Watershed Association in Pennington, New Jersey on October 23rd. This event is a pumpkin carving event for kids of all ages. You have to "bring your own gourd", so grab your pumpkin and come on out enjoy this activity.
New Jersey State Museum's 4th Annual Halloween Spooktacular on October 31, 10am to 3pm, in Trenton, New Jersey. This event, for children of all ages, includes a costume contest, spooky crafts, and other Halloween activities.
In addition to all of this, come out and join US Family Health Plan as we host some special events designed for career service members and their families in our area. Here is a list of what we have planned:
Army 10 Miler – US Family Health Plan "Get Fit Team" on 10/11/2015 in Washington DC
5K Halloween Run/Walk on October 17th at Ft. Hamilton, NY
5K Zombie Run on October 29th at JB MBL, Fort Dix, Time TBA
Fall Fest on October 30th from 10am to 12:30pm at C-29 Coral Road-Earle, Colts Neck, NJ
Fall Fun Event on October 17th from 12:30pm to 3:30pm at 82 Mitchell Ave. East Meadows, NY
Retiree Appreciation Day on October 24th from 10am – 2pm at Fort Hamilton Gymnasium in Brooklyn, NY
For additional information on these events visit http://usfhp.net/whats-happening/
Don't miss out on the chance to get the most out of this beautiful fall season and spend quality time with the family. As we like to say at US Family Health Care, a happy family is a healthy family.