Celebrate the coming of fall by adding some more vegetables and fruits to your plate! If you're like most Americans, you probably aren't getting enough of this nutrient and vitamin-packed food group. It turns out that only 1% of American adults and 2% of children meet BOTH their fruit and vegetable intake recommendations each day. US Family Health Plan would like to encourage all members to eat a nutritious (and delicious) diet — one that is rich with a variety of fruits and vegetables.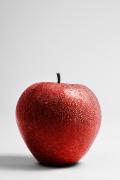 September is the perfect month to focus on fruits and vary your vegetables at each and every meal. In the coming months, you can expect to see apples, corn, broccoli, pumpkins, pears, plums, and lots more at your local farmers market. Not only does eating in season make for delicious food, it's also easier on your wallet.
Scientific research has shown again and again how important vegetable and fruit consumption is to health. Here are some benefits that come with eating a variety of fruits and vegetables:
Strong evidence that it reduces the risk of heart disease and stroke, diabetes, and helps to control blood pressure.
Some evidence that it can help prevent some types of cancer and other chronic diseases.
Consuming fruits and vegetables can help you manage your weight.
Most fruits and vegetables are naturally low in fat and high in fiber.
Fruits and vegetables provide essential vitamins and minerals.
People need different amounts of fruits and vegetables in their diet. A person's age, sex, and level of physical activity all impact the level she or he needs. The general recommendation from the Harvard School of Public Health (HSPH) is to make half of each meal vegetables and fruits. If you would like more detailed information, visit the Centers for Disease Control and Prevention's (CDC) fruit and vegetable calculator to find out recommendations based on your personal characteristics.
Think about what you generally eat on a day to day basis. Are you eating enough vegetables and fruits? Below are some reasons to eat more:
Buying more fruits and vegetables could help your grocery budget. A study released in 2012 by the U.S. Department of Agriculture found that, contrary to popular belief, most fruits, vegetables, and other healthy foods cost less than foods higher in fat, sugar, and salt. Buy in-season produce because it is often less expensive. Generally, beans, carrots, greens, bananas, and apples are cheaper year-round than other foods. Canned, frozen, and dried varieties are sometimes cheaper than fresh produce. Shop around and you are sure to find less expensive options. Additionally, fruits and vegetables tend to keep you fuller longer than more high-calorie foods.
Vegetables and fruits are delicious. Anyone who has tasted an in-season, local tomato can attest to the deliciousness of veggies and fruits. While fresh is good, frozen and canned can also be used to create yummy meals, it just may take a little more creativity.
Fruits and vegetables can be prepared quickly. Fruits like bananas, apples, and oranges are perfect to grab and go. For veggies, if you want to save time, try buying bags of pre-cut vegetables or spending a little more time on the weekends to chop and cut veggies for the week. Or, throw some frozen fruit into a blender for a smoothie. What about dried fruit? Grabbing a box of raisins on your way out the door is as easy as 1, 2, and 3.
For more tips on how to include more fruits and vegetables into your breakfasts, lunches, snacks, and dinners, check out the HSPH's top ten tips for healthier eating.
Resources:
Nutrition information from MedlinePlus
Healthy Eating on a Budget (ChooseMyPlate.org)
Fruit and Veggies: More Matters campaign
Local Harvest, information about local farmers' markets.