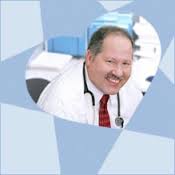 In November 2015, the Consumer Assessment of Healthcare Providers and Systems (CAHPS) Survey reported a 91.5% overall satisfaction rating among US Family Health Plan members. This score is 33% higher than the national average of 68.5%. US Family Health Plan has been providing quality healthcare to the military community – retirees and their families as well as active duty family members -- for over 30 years, as part of the TRICARE Prime Health Program.
An important member of the US Family Health Plan team responsible for this high satisfaction rating, is Dr. John Burkhart, our Medical Director for over 12 years. Dr. "B", as we like to affectionately call him, came to US Family Health Plan after retiring as a U.S. Navy Captain in 2003. He had served 30 years in the U.S. Navy as both as a pediatric physician and medical administrator.
His strong combination as a practitioner, medical administrator, coupled with his military experience made Dr. Burkhart an invaluable asset to our organization. He thoroughly enjoyed his service in the Navy as a medical doctor and he brings that same passion to his work at US Family Health Plan. "I got the greatest satisfaction in being able to give my patients the best care while knowing that they, as members of the military, would not have to worry about the cost". He is the person on our staff who ensures our providers offer the best medical care to our members. He has helped shape the excellent level of quality and service that US Family Health Plan is recognized for in the military community.
Dr. Burkhart's military career began during the Vietnam War, where he served as a pediatrician at the Naval Base in Portsmouth, VA. Over the next 15 years, he primarily attended to pediatric patients at various bases and military medical facilities throughout the country. In the latter part of his military career, Dr. Burkhart took on the role of a medical administrator before retiring as the Deputy Commander at the Naval Ambulatory Care Center at the Naval Submarine Base New London (SUBASE) in Groton Connecticut.
Upon joining US Family Health Plan in 2003, Dr, "B" brought his medical experience to bear on our organization to help ensure our members experience consistent quality of care from end to end. "I identify with our members because I have been in the same boat. I know the TRICARE rules and regulations because I lived them for 30 years". This knowledge base helped us to build a health plan that is highly satisfactory for our members and that cuts through much of the 'red tape" normally associated with TRICARE.
Each day, Dr. Burkhart orchestrates an intricate system of physicians, medical facilities, new medical technology and medical vendors to find ways to improve what US Family Health Plan provides for its members. At the end of the day, while our members experience a high level of satisfaction, Dr. Burkhart is working diligently and quietly behind the scenes to ensure US Family Health Plan delivers quality, empathy, value, consistency, service and most importantly, excellent health care.
Dr. Burkhart, we at US Health Plan salute you!