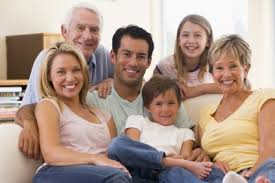 Now that the lazy days of summer over, life is about to shift into high gear again! It's back to school, back to work and back to reality. Next thing you know, the holidays will be here! With all the fun summer activities drifting into the sunset, families have to work harder to spend quality time together. Navigating around school activities, home work, and regular daily chores, it's super important to carefully plan out those precious moments to spend time together.
At US Family Health Plan – a TRICARE Prime health option – family always comes first. Families are what fuel a happy, healthy life. So sharing tips to help you carve out those special times and create memories is something we're happy to do.
Here are 5 things that happy families tend to do together, no matter how busy everyone is. Use this as your blueprint for creating your own special family time, even amidst all of the hustle and bustle the fall season brings.
Talk to each other. The idea of the whole family gathering just to talk may seem like a relatively easy accomplishment. But think again. Today, a good conversation has to compete with ringing cell phones, noisy video games, beeping texts, sports,and social media. To boot, everyone now has their own private TV and binge viewing hit list. Even during conversations, people seemed to be easily distracted by the latest notifications on their phone. Find time to sit down and enjoy a real family conversation. Turn the cell phones off. You can call it a family meeting, or you can just call it pizza night. Make time each week for the family to spend time chopping it up – talking about what's on everybody's mind. If a family member is away on military deployment, arrange to connect with them through Facetime or Skype. Use technology to make a family meeting happen on a regular basis. Your family is your #1 support group, and communication is the glue that holds it all together.
Savor family meals together. Family dinner is certainly much less formal than it used
to be. But whether seated around a dinner table, at the counter in the kitchen, or in the den around a fireplace, dinner is a special time when families can connect. Over dinner, everyone gets to talk about the highlights of their day and learn more about what everyone is doing. It is also an important time when children get to learn to take cues from their parents about manners and respectful behavior. It is also just a good time to enjoy a delicious meal together. Dinner time is an incredible opportunity for the family to bond.
Tackle big family projects together. Team up to clean out the basement or garage, wash the family car, or donate old clothes to goodwill. Do something to help your local veterans. Individually, these tasks can be tedious, but together as a family team, they can actually be fun. Some of life's best moments occur when we're are doing something for others. And successfully completing a family project shows the power of team work. These lessons of team accomplishment will payoff for a lifetime.
Make holidays, birthdays, graduations and anniversaries special. Honor each family member and make them feel special on important dates. If a family member
is deployed or away at college, make sure the family gets in touch with them. As often as possible, bring everyone together for those special moments. They start to add up and next thing you know, you have a family scrapbook full of wonderful memories together. These are the times when we can show each family member that we don't take them for granted and that we truly care about them.
Schedule regular family outings and trips. Take at least one week out of the year to do a family trip together. Plan at least one family outing per month. While it may initially be hard to get everyone on the same page, soon family members will learn how enjoyable these plans can be and how to compromise to make it work. Get everybody's ideas and input as you plan what to do. Whether a trip overseas, a visit to a local museum, a camping trip, or a local bike ride – everyone will come back home feeling like they did something together. Family trips expand everyone's horizon and can be downright fun.
So as cooler weather approaches, US Family Health Plan challenges each of you to look for ways to get more quality time in, no matter how many schedules have to be juggled. It's just worth it. Later in life, when you look over photo albums filled with a collection of wonderful memories, you will know what we mean. Spending quality family time together is one of the most important accomplishments you can have in life. Enjoy the love!