---
The common focus of the holiday season is family celebration. Families across the country come together to enjoy quality time together. It is a time when even extended family members, normally not together, reconnect. This spirit defines the season, but can be one of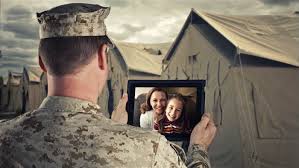 the most challenging aspects for military families where a loved one may be absent due to military deployment.
When children are out of school and cheer is in the air, military families may not so cheerful when loved ones are absent from the holiday table.
As brave military service members serve away from home, it is important to help them and their families cope with the added holiday stress of being separated. This season can dredge up all kinds of feeling -- loneliness, stress, depression, homesickness, and frustration. Some families may even tone down their holiday cheer because celebration may seem inappropriate or too painful. However, it is important to remember that one of the healthiest things you can due to offset these feelings is to maintain good connects, both with those who are at home and those who are away.
Adults coping with holiday separation need to take time out to rest, re-charge and de-stress. This especially applies to a parent who may be managing the family holiday activities alone. Your health and well-being are our foremost concern. Here are some suggestions that can help during this holiday lull.
Plan to do some activities that help you recharge – remember, you are not the Ever Ready Bunny. Exercise, take in a feel-good movie, do a spa day, and spend time with other friends who may be in the same situation as you.
Giving is often the best way to take your mind off of your own difficulties. Consider spending time at a food bank, creating care packages for your own family member, or even those who may not have family members. Get involved in community volunteer activities, which can be emotionally and spiritually rewarding.
Try to maintain realistic expectations about the holidays and remember that under any circumstances, the holidays are never really perfect. Stay focused on the real meaning of the season.
Dealing with a deployment at any time of the year is difficult. If you feel you are having trouble coping with the stress, each out to others and share your feelings. Connect with other families in similar situations and work together to regain joy and reduce stress.
Happy Holidays from our family to yours!
---