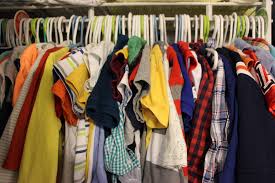 Alas, the cool breeze of fall has arrived and the sultry summer days are gone. It's time to pack up those shorts, t-shirts, and sundresses, and replace them with sweaters, fall suits and holiday attire. The process of decluttering a closet can be intimidating and time-consuming. Why? Because many of us tend to hold on to stuff too long. This tendency can make the fall switcheroo that much more difficult.
Fear not, US Family Health Plan – a TRICARE Prime health option – is here to offer you a quick 5 step strategy to make this process easier. Remember, when you eliminate clutter, you also eliminate a major source of stress. You may think there's a benefit to having a lot of stuff, but too much stuff can make us crazy. Closet clutter forces us to make too many decisions too early in the morning. And that's not a great way start to the day.
Here are 5 ways you can win the war on closet clutter this fall. Act now, and we guarantee you'll enjoy less stress in the months to come.
Take a quick first pass at your closet clutter. Beware, this is an exercise in quickness. Grab a trash bag, take a deep breath, and bravely approach your closet. Start at one end, and move quickly to the other end. Remove everything you know you need to get rid of. This may include things you haven't worn in 5 years, clothing that is permanently damaged or stained, and anything that is one or more sizes too small (or large). Be on the lookout for clothing from a bygone era in your life. If you're in your 40's, you no longer need your high school prom outfit from your teens. Throw all "first pass" items on the floor, step away from the pile, get your garbage bags ready, and load. All clothing hangers should go in a separate pile. Place all filled bags safely out of site. You have now successfully completed the first step.
Take a second pass – determine what stays and what goes. This step is slightly more difficult. There are three types of clothes that you should keep and three types that you should ditch. Keep clothes that fit you well and feel great, are still in good shape, and that people have complimented you on. These are your wardrobe essentials. What to ditch? Anything that still has a tag on it after one full year, clothes that you've tried on time and time again, and just don't look right, and things that people have told you to get rid of (even if you didn't want to believe them). Now we are getting somewhere.
Tackle your shoe situation. Some people make it their business to collect shoes. It's not uncommon for some of us to have over 100 pairs. Because our shoe size never really changes, shoes can be hard to part with, but over the years, some of them have to go. You should ideally have no more than 25 pairs of shoes to work with at any given time -- including boots, sneakers, sandals, and house shoes. First step. Grab any shoes that are covered in dust because you have not worn them in years. Second, discard shoes that you love but that just don't fit. Third, get rid of any shoe that hurts if you wear it for more than 10 minutes. Put these items immediately into a trash bag and then out of sight.
Follow the golden rules for a clutter-less life. You only have so much space for your stuff. And if your stuff doesn't fit into your space, it's not for lack of space, it's because you have too much stuff. Remember, less is usually more. The fewer decisions you have to make each morning the less you'll experience stress. This frees up more time to just enjoy life. It'll even be easier to get to work on time. Always remember that when it comes to clutter, we're only talking about material things. If you make a mistake and discard something you regret later, it can always be replaced. And you need space for the new things in life coming your way!
Donate your unwanted belongings to a good charity. Look for charities that support veterans or other deserving groups in your community. These donations are tax-deductible and ensure that your hard-earned purchases are put to good use. What no longer fits you, will fit somebody else. Something that didn't complement your shape, will be perfect for someone else. And remember that coats, school clothes, and suits can always help people who are struggling to get through job interviews, or important meetings because they currently lack funds. Even old prom gowns can be used by high school girls who cannot afford their own.
US Family Health Plan wants you to reduce as much unnecessary stress in your life as possible. Too much stress is the adversary of good health. Much of what causes stress is useless and unwanted anyway. Life should be a positive flow, so keep the good vibes going. Use fall as a time to truly clean out your closets, and potentially help someone less fortunate acquire the things they need. This is a win-win situation for everybody, but the biggest beneficiary will be you.