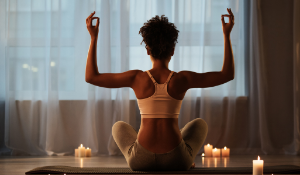 So, what are the odds of living past 110 years old? In 2015, the earth was home to roughly half a million "centenarians" or people aged 100 and older. This figure is more than four times the amount in 1990. A recent study reported individuals who eat a high-quality healthy diet and do at least 30 minutes or more of daily exercise can increase life expectancy by 10 years.
Reducing stress can also contribute to a balanced lifestyle that may increase longevity. Chronic stress is linked to premature death. Consider adding a few of these relaxation techniques to your routine to lower your risk:
Aromatherapy is a holistic healing treatment using natural plant extracts to relax, and relieve stress. Sometimes it's called essential oil therapy because it incorporates oils or fragrances from flowers, herbs, and trees. The extracts may be inhaled or used during massages, facials, body wraps, and baths.
Breath work including deep breathing can help you relax and help increase your mental clarity. It's as simple as taking a deep breath in and then releasing it slowly. Do this as many times as needed for a calming effect.
Stretching can also reduce stress and improve circulation. Tight muscles can lead to a decrease in your range of motion increasing the likelihood of straining the muscles in your back or lead to serious injuries.
Be sure to clear these stress relief methods with your primary care doctor before trying out.
US Family Health Plan:
In addition to the above practices that can be easily added to your routine at your own discretion, USFHP's TRICARE Prime plan also offers benefits that support healthy stress management. We've developed incentive programs that give rewards to our members for meeting certain health goals.
Lastly, with our free enhanced benefits members can choose to receive up to $250 a year in gym reimbursement.
Visit usfhp.net or call 1-800-241-4848 for help finding a provider or assistance scheduling an appointment.