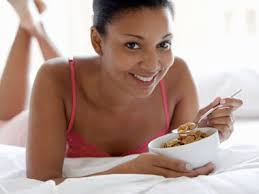 July is Health Awareness Month. At US Family Health Plan, we take health and wellness very seriously. A healthy lifestyle helps support wellness and helps prevents disease. We see this as a winning combination. It is one of the best ways to make a good doctor's check-up, even better. So here are 5 of the top trends in health and wellness today.
Eating Breakfast, Lunch, or Dinner Out of a Bowl. A few years ago, smoothies were the big new trend in healthy eating. We all purchased shiny new appliances that could blend all kinds of vegetables, fruits and vitamins into one healthy, fast, portable drink. Today, this trend has evolved into "bowls" of nutritious, healthy goodness, that can be eaten for breakfast, lunch or even dinner. They might be part smoothie, but they also have whole grains, vegetables, and proteins included, along with sweet or savory sauces on top. And the combinations are endless.
While a healthy meal contained in one big bowl can be made at home, healthy restaurants are starting to include them on the menu as well. The variations in ingredients are endless – they come in all colors, shapes, and sizes. Some can be sweet, some can be savory – the common denominator is that they all are made with fresh, healthy ingredients and can be sprinkled with other nutrients like chia seeds, avocado, or fresh fruit. Whatever you call them - grain bowls, macro bowls, veggie bowls or Buddha bowls – they are a fast, easy and delicious way to get your proteins, grains, veggies, and nutrients at once, and they work with today's casual, easier lifestyle.
Living Life in Workout Clothes. In 2016, the word "athleisure" appeared in our wardrobe vocabulary. It means a combination of "athletic" and "leisure", and it has become a super trend. People today wear stylish workout gear for all activities short of business meetings or a formal event. The idea is to be comfortable as much as possible, while still maintaining some modicum of style. True, some folks carry this too far, but you have to admit, the idea of spending all day Saturday in workout clothes and sneakers is appealing. Today, people like to wear clothing that is chic, comfortable, and easy to care for. What does that spell? Workout clothes. Look for more of these styles to every man, woman and child's wardrobe in 2016.
Minerals Along with Your Vitamins. This year minerals are the new rock stars of the supplement world – no pun intended. When we look at all the ailments that affect many of us in modern life -- stress, sleeplessness, too much caffeine – and they all have one thing in common, they deplete our mineral levels. The most important mineral they deplete is magnesium. Lowered magnesium levels can present a host of problems linked to muscle and bone strength. Magnesium also helps regulate blood pressure and keeps the immune system strong. Today's new trend is to make sure you are getting adequate levels of magnesium -- whether through supplements, magnesium oils or sprays, or by soaking in Epsom salts in a hot bath.
Looking Good from the Inside Out. This year's big skin-care trend isn't about what you put on your face, it's what you're putting into your body. Dozens of companies—from Hum Nutrition to Beauty Chef to Fountain—are making beverages loaded with the nutrients that help promote a healthy glow, fight acne, or prevent the signs of aging. These drinks contain superfood ingredients and antioxidants such as turmeric, probiotics, or zinc. They come in powder form that can just be added to your water or tea. Today, people understand there is a link between great, glowing skin and nutrition. And how your skin looks is reflection of your overall health. We now know that health tarts from the inside out. Looking great is a function of feeling great and being healthy inside.
Meditation is a Must. Today, more and more people are learning the massive benefits of meditation. And now, meditating is no longer mysterious – it has become easy, convenient, social and fun. Meditation groups are forming everywhere – from large auditoriums to your local park or recreation center. For those more solitary types, there are now apps for guided meditation that are available for free on your smart phone. Meditation is the new "happy hour". Focusing your mind through meditation practice pays great dividends in keeping you centered, balances, more in control, less stressed and re-energized. There are even meditation events that feature things like a lecture from a Buddhist monk, a free massage, or a swanky vegan dinner. Chill out time is definitely a trend these days.
While we know that all trends can come and go, the important thing is that the goal health and wellness remains a constant. More than ever, people are learning that health is a function of great lifestyle choices, choices that support wellness and vitality. Hopefully, these trends will be give you food for thought as you embrace a healthy lifestyle for yourself and your family. US Family Health Plan- a TRICARE Prime option provides one of the highest rated health coverage plans available to U.S. military retirees and the families of deployed active military service members. But the first line of good health defense are healthy lifestyle habits. Let's embrace them as we celebrate Health Awareness Month.